As a budding engineer, you're already skilled in the technical aspects of your craft. But how do you take that next step and become a true leader in the field?
Engineering leadership development programs aim to equip aspiring leaders with the necessary skills and knowledge for managing teams and projects successfully. While these initiatives can be immensely beneficial, there are potential drawbacks that must also be considered.
Benefits of Enrolling in an Engineering Leadership Development Program
Improved Leadership Skills: Engineering leadership development programs aim to equip participants with the abilities necessary to lead teams and manage projects. Topics covered may include effective communication, team building, problem-solving, and decision making. For instance, participants may learn how to convey complex technical information to non-technical audiences, create cohesive teams that work well together, and make strategic decisions that benefit their organization.
Enhancing Career Prospects: Completing an engineering leadership development program can open the door to new career possibilities by demonstrating to employers your abilities to lead teams and execute projects successfully. If you're an engineer aspiring to a leadership role, completing such a program could make you eligible for promotion or new job openings.
Networking Opportunities: Engineering leadership development programs often provide individuals with the chance to network with other professionals in the industry. This can be advantageous in several ways, such as learning about new opportunities within the sector, connecting with mentors or advisors who can offer guidance, and connecting with peers who can offer support and suggestions.
Professional Development: Enrolling in an engineering leadership development program demonstrates your dedication to professional growth and can make you stand out among other engineers. By honing your leadership skills and knowledge, you position yourself as a leader within your organization and demonstrate that you are passionate about improving yourself as an engineer.
Drawbacks of Enrolling in an Engineering Leadership Development Program
Time Commitment: Engineering leadership development programs can be time-consuming, necessitating participants to invest several hours per week. For instance, attending classes two evenings per week might prove challenging for those with hectic schedules – especially engineers who work full-time and have other personal or professional obligations.
Cost: Engineering leadership development programs can be costly, with participants needing to pay tuition or other fees. For instance, some programs may cost several thousand dollars annually. This amount represents a considerable financial investment for engineers just starting their career or those with other commitments such as student loans or mortgage payments.
Lack of Flexibility: Some engineering leadership development programs may not be accommodating enough to accommodate all participants' schedules. For instance, in-person classes may require participants to travel, which could prove challenging for those with long commutes or other conflicts. This limits accessibility of the program and makes it difficult for some engineers to participate.
Limited Focus: Finally, some engineering leadership development programs may be too narrowly tailored towards a certain industry or type of engineering. For instance, an exclusive civil engineering program or one devoted solely to project management may limit the applicability of skills learned and make them less useful for engineers seeking to branch out into new fields or industries.
Top Nationwide Engineering Leadership Development Programs for Aspiring Leaders.
Engineering Leadership Development Program (ELDP) – This program, offered by the University of Texas at Austin, equips engineers with the abilities and skillset needed to lead teams and manage projects. It features classroom instruction, hands-on learning experiences, and mentorship from experienced leaders in the industry.
National Society of Professional Engineers (NSPE) Leadership Institute – The NSPE Leadership Institute offers leadership development programs for engineers, including online courses and in-person workshops. Topics range from communication and team building to project management.
American Society of Civil Engineers (ASCE) Leadership and Management in Engineering – ASCE offers a series of leadership and management courses tailored specifically for engineers. These workshops address topics like leadership styles, effective communication techniques, and conflict resolution strategies.
Institute for Engineering Career Development (IECD) Leadership Bootcamp – This intensive program is designed to give engineers the skillset they need to progress their careers. It includes classroom instruction, one-on-one coaching, and networking events.
Massachusetts Institute of Technology (MIT) Professional Education Leadership and Innovation – MIT offers a leadership and innovation program tailored to engineers. This curriculum encompasses courses on leadership, innovation, entrepreneurship as well as hands-on learning opportunities and case studies.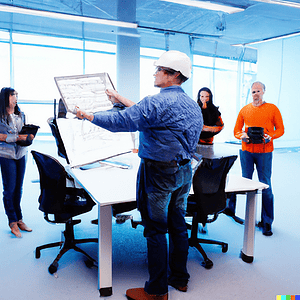 In conclusion, engineering leadership development programs can be highly beneficial for engineers who wish to hone their leadership abilities and progress their careers. It's essential that engineers carefully weigh the potential downsides before enrolling in a program. By carefully weighing both benefits and drawbacks, engineers can make an informed decision as to whether this type of instruction is right for them.
Are you searching for the ideal job that fits both your career goals and values?
Look no further than AE Concepts. Our team of recruitment specialists strives to find you the ideal position that not only meets your qualifications, but also matches up with both personal and professional values. By emphasizing employee health, work-life balance, and individual success, we aim to foster an encouraging workplace culture for all. Connect with us today to start designing and achieving success together!