Advantages Of Hiring Ae Concepts As Your Engineer Recruiting Firm In Orlando
In Orlando's evolving technical landscape, the need for a specialized engineer recruiting firm is paramount. Are you seeking a precise and dependable firm to assist with the intricacies of the engineering job market in Orlando? Consider AE Concepts, a foremost engineer recruiting firm in Orlando.
With a robust understanding of industry demands, AE Concepts provides specific recruitment solutions tailored for both engineering employers and professionals.
Understanding Engineer Recruiting Firms
Engineer recruiting firms are specialized agencies that focus on sourcing, screening, and matching qualified engineering professionals to suitable job openings. They focus on engineering, making them great for employers who need engineering skills and for candidates looking for engineering jobs.
The Orlando Engineering Job Market: A Local Perspective
Orlando, Florida is a burgeoning hub for the engineering, architecture, and construction industries. With the city's thriving aerospace, defense, simulation, software design, and digital media sectors, the demand for engineering talent is consistently growing.
To succeed in this field, it's important to know the local market trends. Additionally, understanding salary standards is crucial. Lastly, being aware of the specific skills that Orlando companies look for in engineers is also essential.
Benefits of Using AE Concepts as your Engineer Recruiting Firm in Orlando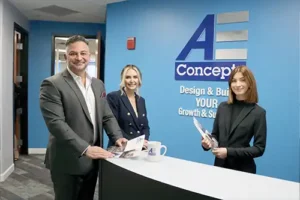 In Orlando's dynamic engineering landscape, having a professional recruiter to seamlessly connect employers with prospective candidates is invaluable. AE Concepts, with its unparalleled level of service, is adept at deciphering the nuances of the city's evolving engineering sectors and finding the right fit for both engineering employers and engineer job candidates.
Their staffing services simplify recruitment and offer benefits for employers and aspiring engineers. Let's dive into the comprehensive benefits of partnering with AE Concepts as your engineer recruiting firm in Orlando.
For Employers
Access to a Broad Talent Pool: AE Concepts has an extensive network of active and passive candidates, enabling them to source the right talent that aligns with your company's specific needs.
Time and Cost Efficiency: By outsourcing your recruitment process, you can save valuable time and resources that can be channeled toward your core business operations.
Quality Candidates: AE Concepts conducts comprehensive screening processes, including background checks and skill assessments, to ensure that only the most qualified candidates are shortlisted.
Industry Expertise: AE Concepts has a deep understanding of the engineering industry, which enables them to provide informed recruitment strategies and insights.
For Candidates
Tailored Job Matches: AE Concepts works closely with candidates to understand their career aspirations and matches them with job opportunities that align with their skills and interests.
Interview Preparation: AE Concepts offers valuable insights into company cultures and guides candidates in how to prepare for interviews, increasing their chances of getting hired.
Career Counseling: AE Concepts provides career advice, resume writing assistance, and other resources to help candidates navigate their career paths effectively.
The AE Concepts Advantage
At AE Concepts, we pride ourselves on being one of Orlando's premier engineering staffing agencies. We have a strong base of industry knowledge and a strong commitment to excellence in architecture, engineering, and construction.
In 30 years, we gained valuable experience and became a trusted partner in engineering recruitment. We don't only serve Orlando; our recruitment solutions are successful in national markets as well.
Through this vast network and unmatched expertise, we ensure that organizations and professionals find their perfect match. At AE Concepts, we strive to uphold and set new benchmarks in engineering recruitment.
Why Choose AE Concepts?
Specialized Focus: AE Concepts has a specialized focus in the engineering, architecture, and construction sectors, which allows for a deeper understanding of and connectivity within these industries.
Rigorous Quality Control: AE Concepts ensures that only the highest caliber of candidates are presented to employers, significantly boosting the likelihood of successful placements.
Progressive Company Culture: AE Concepts fosters an inclusive and dynamic workplace culture that prioritizes employee well-being and professional development.
Extensive Expertise and Experience: With over three decades of combined experience, AE Concepts' team possesses invaluable industry knowledge, translating into informed and effective recruitment strategies.
If you need help finding an engineering job in Orlando, or your company is looking to bring on the best engineering talent, AE Concepts is the trustworthy recruiting partner that can help you achieve your goals. Call us today at 407.835.8000 or send us an email at [email protected] to get started.
Your success is our priority, and we are committed to providing exceptional recruitment services tailored to meet your specific needs.
Other Resources:
National Society of Professional Engineers